Read time:
2
minutes
Received an extensive review today with a rating of no less than five stars. Indeboekenkast.com is an online platform that reviews books for Dutch and Flemish writers.
Review Kelilah by Pierre Peeters: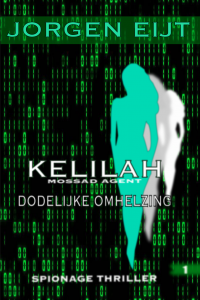 Main character Kelilah, a top agent of the Israeli secret service Mossad, is called in with her team to solve the murder of CIA agent John Carwick in Zurich. In addition, she has to fight the Russian mafia figure and arms dealer Soloviev, known for the striking resemblance under his nickname Danny De Vito! Will Kelilah be able to solve the murder case? Will she be able to conquer Soloviev? Is her traumatic background playing tricks on her in this?
Will she ... After "Ten dar tales before bedtime" and "Dharma: everything has a price" this is the third book I was allowed to read by Jorgen Eijt. Once again he managed to surprise me and my expectations were completely fulfilled! The large font and paragraph spacing makes this book easy to read. The pleasant, smooth and visual writing style with short sentences, ditto chapters and the (sometimes sharp) dialogues peppered with witty humor complete the reading pleasure. It is a real page turner, as a reader you just want to know how the story will turn out and how it will end. You are constantly drawn into the story. 
Jorgen Eijt was able to put a lot of speed into the story. The main character and the fringe characters were well portrayed, profiled and their characters worked out sufficiently deeply. The international spy story takes place at lightning speed alternately in Switzerland, USA, Russia and Israel, whereby a tip of the veil is systematically being lifted about the operation and techniques of a secret service. The tension is built up slowly and eventually ends abruptly in a masterful but surprising plot. 
In the afterword, the author provides a very interesting interpretation of his book, which I found very enlightening. The attractive cover features a mysterious shadow image of supposedly Kelilah against a background of bites / bytes. A short blurb, half a photo of the author next to a blurry city photo fill the back cover. For the fantastic story, for the reading pleasure, for the instructive interpretation, I like to rate this book with 5 stars.