Read time:
< 1
minutes
Nice review today on Hebban, the largest reader platform in the Netherlands. The review can be found here .

Review Sanne
When CIA agent John Carwick is murdered, it looks like all of Israel will go under. The Mossad enlists a team of the very best agents to turn the tide. One of those agents is Kelilah, a young woman with a troubled past. Can she turn the tide?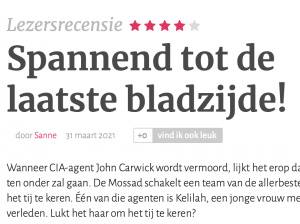 The book immediately starts exciting. The tone has been set right. As a reader you are immediately drawn into the story, putting the book away is no longer an option. 
Besides the fact that you follow the developments of the research, you also follow the personal development of Kelilah. What happened to her and her family? Who is responsible for the trauma she suffered?
Eijt's writing style is very pleasant. It is written smoothly. The chapters are short and to the point, Eijt does not ignore it. The story is not long-winded. The font of this pocket format is quite large and that reads very well.
This book is a must for anyone who has never read a spy thriller. The pleasant writing style and catchy story will get you through it in no time. And Eijt knows how to keep it exciting until the last page, so you do not suffer from loss of concentration.